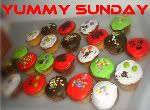 Time just flies fast and its sunday again. It's a great weekend just staying at home doing household chores and cooking sumptuous and healthy dishes. For lunch I prepared this Kinilaw dish.The ingredients include tuna (sliced into cubes), chopped onions, garlic & ginger,siling labuyo (hot chili),leeks,vinegar,calamansi, salt and cucumber (sliced). Just mix all the ingredients and kinilaw is ready to serve.
I also prepared tilapia ( a fresh water fish ) marinated in calamansi, salt, pepper and soy sauce for 30 minutes.Deep fry in cooking oil ( use canola or olive oil ) until golden brown and crisp.Put cucumber as side dish.
Eggplants were relatively low in price this weekend so i bought a kilo of it. I made an eggplant omelet and it was easy preparing this meal because I just had to grill the eggplants then peel off the skin After that dip into a mixture of beaten eggs seasoned with salt & pepper then fry until golden brown.
Dick and Anne were having a pleasant and relaxing weekend savoring these meals that i cooked.