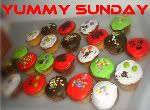 Ingredients:
1 pack caldereta recipe mix
3/4 beef short ribs cut into serving pieces
200 grams potatoes, pared and quartered
50 grams red & green bell peppers,sliced
2 tbsp. cooking oil
5 cups water
1 (90 gram) liver spread (optional)
hot chili pepper
How to cook:
1) Heat oil in a pan. Fry the beef short ribs until slightly brown then remove excess oil.
2) In the same pan, add the water then completely dissolve caldereta recipe mix. Bring to boil with constant stirring. Simmer with cover until meat is tender (30-45 minutes.) Add liver spread and bring to boil.
3) Add potatoes and cook for another 10 minutes. Add all peppers in the last few minutes of cooking. Serve.
Lunch time was just so good with the yummy, spicy beef caldereta joined by steamed rice and ice cold cola soft drink. A sumptuous meal for a great relaxing weekend.